Prices
| | | |
| --- | --- | --- |
| Period | B&B | HB |
| 23.09. – 24.11.2023 | € 55.- | € 70.- |
| 25.11. – 23.12.2023 | | € 74.- |
| 24.12. – 06.01.2024 | | € 124.- |
| 07.01. – 26.01.2024 | € 59.- | € 74.- |
| 27.01. – 01.03.2024 | € 70.- | € 95.- |
| 02.03. – 12.04.2024 | | € 74.- |
| 13.04. – 07.06.2024 | € 60.- | € 75.- |
| 08.06. – 05.07.2024 | € 70.- | € 88.- |
| 06.07. – 26.07.2024 | € 80.- | € 130.- |
| 27.07. – 06.09.2024 | € 85.- | € 135.- |
| 07.09. – 27.09.2024 | € 80.- | € 130.- |
| 28.09. – 25.11.2024 | € 60.- | € 78.- |

| | | |
| --- | --- | --- |
| Period | B&B | HB |
| 23.09. – 24.11.2023 | € 47.- | € 69.- |
| 25.11. – 23.12.2023 | | € 69.- |
| 24.12. – 06.01.2024 | | € 109.- |
| 07.01. – 26.01.2024 | € 54.- | € 69.- |
| 27.01. – 01.03.2024 | € 56.- | € 74.- |
| 02.03. – 12.04.2024 | € 54.- | € 69.- |
| 13.04. – 07.06.2024 | € 54.- | € 74.- |
| 08.06. – 05.07.2024 | € 59.- | € 79.- |
| 06.07. – 26.07.2024 | € 66.- | € 98.- |
| 27.07. – 06.09.2024 | € 72.- | € 109.- |
| 07.09. – 27.09.2024 | € 66.- | € 85.- |
| 28.09. – 25.11.2024 | € 52.- | € 74.- |

| | | |
| --- | --- | --- |
| Period | B&B | HB |
| 23.09. – 24.11.2023 | € 44.- | € 60.- |
| 25.11. – 23.12.2023 | | € 67.- |
| 24.12. – 06.01.2024 | | € 94.- |
| 07.01. – 26.01.2024 | € 49.- | € 61.- |
| 27.01. – 01.03.2024 | € 53.- | € 71.- |
| 02.03. – 12.04.2024 | € 51.- | € 71.- |
| 13.04. – 07.06.2024 | € 49.- | € 65.- |
| 08.06. – 05.07.2024 | € 54.- | € 74.- |
| 06.07. – 26.07.2024 | € 63.- | € 94.- |
| 27.07. – 06.09.2024 | € 65.- | € 96.- |
| 07.09. – 27.09.2024 | € 63.- | € 74.- |
| 28.09. – 25.11.2024 | € 49.- | € 65.- |

| | | |
| --- | --- | --- |
| Period | B&B | HB |
| 23.09. – 24.11.2023 | € 42.- | € 58.- |
| 25.11. – 23.12.2023 | | € 65.- |
| 24.12. – 06.01.2024 | | € 89.- |
| 07.01. – 26.01.2024 | € 49.- | € 59.- |
| 27.01. – 01.03.2024 | € 53.- | € 69.- |
| 02.03. – 12.04.2024 | € 49.- | € 59.- |
| 13.04. – 07.06.2024 | € 47.- | € 63.- |
| 08.06. – 05.07.2024 | € 53.- | € 69.- |
| 06.07. – 26.07.2024 | € 59.- | € 90.- |
| 27.07. – 06.09.2024 | € 61.- | € 91.- |
| 07.09. – 27.09.2024 | € 53.- | € 69.- |
| 28.09. – 25.11.2024 | € 47.- | € 63.- |
Included
Cuisine

Rich breakfast buffet
4-course menu in the evening
Varied cuisine week program (Italian evening, ...)
Daily salad bar and vegetarian dishes
Attractive lunch menu
Homemade pastries and South Tyrol specialties
Wellness

Finnish sauna *
Turkish bath *
Kneipp basin *
Shower experience *
Hot whirlpool *
* for a surcharge in the summer
Furthermore

Free Wi-Fi throughout the house
Spacious sun terrace with garden
Ample parking directly at the hotel
Garage for bicycles and motorcycles
Lift
Children's playroom with ping pong table
Ski Storage / Ski waxing station
Offers Hotel Toblacherhof
New Year Special
01.01. – 04.01.2024
Overnight stay with half board
€ 100
Price per person and day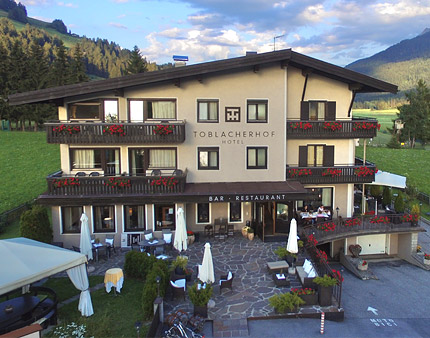 Spring, summer, autumn
27.05. – 21.06.2024
29.09. – 06.10.2024
Overnight stay with breakfast for a minimum stay of 7 nights in a standard room including welcome drink
€ 45
Price per person and day
Information
Our prices are approximate values and intended per person per day for a minimum stay of 6 days. For a stay of shorter than 6 days, a surcharge of 38% per day will be charged.

Persons aged 14 years and over will have to pay a tourist tax of € 2,00 per person per day. This fee is not included in the total price of your stay: it is only payable on departure.

(Extra bed in room with parents)
Children under 2 years stay for free! (Meals not included)
50% discount on the HB-price for children up to 6 years.
30% discount on the HB-price for children up to 14 years.

Check-in: 3 p.m. – 8 p.m.
If you do not arrive by 8 p.m. on the arrival day, we ask you to inform us about this fact in advance.
Check-out: 8 a.m. – 10 a.m.

We charge an extra pay of 30% according to our pricelist for the single use of double bedrooms.

In case of confirmed reservations, we ask you to make an advance payment amounting to € 100,00, which counts as cancellation fee as the case may be, via eurocheque or bank transfer. Our bank account: Cassa Raiffeisen Dobbiaco - IBAN: IT 36 Y 08080 58360 000300000116 - SWIFT BIC: RZSBIT21238

In case of an early departure or a delayed arrival, the room is charged for the agreed period of time.

All rooms are non-smoking. You can smoke on the balcony or terrace.

We point out that the hotel bill can very well be paid cash, via cash card or credit card. We would like to inform you, that according to the current law, payments in cash can only be accepted for a maximum amount of 1.999,99 Euro.